Introduction
Diabetes mellitus (DM) is a major health issue [1]. It is expected that the number of diabetic patients will increase to affect 7.7% of the population by 2030 [2]. Diabetes is associated with changes in the structure and functionality of the myocardium and this state is called diabetic cardiomyopathy (DCM) [3]. Severe complications are associated with diabetes such as cardiovascular disease and cerebrovascular disease, diabetic foot disorders, In addition to various microvascular disorders such as nephropathy, retinopathy, neuropathy, and sexual dysfunction [4].
Clinical and experimental diabetes mellitus results indicate that free radical oxidative stress mediates an important role in organ transformation and cardiac dysfunction [5]. Additionally, both type 1 and type 2 diabetes cause myocyte damage that occurs through reactive oxygen species (ROS) pathways [5][6].
While several plants have a proofed anti-diabetic effect, both research and conventional usage are limited to only a few useful plants, such as Sylvestre gymnema, neem, Hordeum vulgare, Pterocarpus marsupium and Ocimum sanctum [4]. Ballota also is known as Horehound (Ballota saxatilis) is a member of the family Lamiaceae and grows in various regions of Egypt's North Sinai [7]. This plant has a long history in traditional medicine, especially in Sinai for treating patients with non-insulin-dependent diabetes [8]. Ballota extract is rich in bioactive compounds such as methoxylated flavones, flavone aglycones, alkaloids, tannins, saponins, coumarins, docosanoic acid, catechins, amino acids, cardenolides, hydrocarbons, in addition to the sterols β-sitosterol and stigmasterol [9]. Moreover, the phytochemical screening of ballota has suggested the presence of 3- butenyl isothiocyanate, 2-methyl butenyl isothiocyanate, benzyl isothiocyanate, in addition to α, β, and 2-naphthyl-n-propyl ether in its volatile oil [10]. The phenolic compounds undoubtedly play a major role as antioxidants and free radical scavengers [11].
Therefore, the aim of this work is objected to investigate the probable hypoglycemic properties of ballota on diabetes mellitus in relation to its antioxidant effect in n5-Streptozotocin (n5-STZ)-induced diabetic mice.
Material and Methods
Plant material
The aerial part (stem) of Ballota was obtained from Jordan. Plant parts were washed thoroughly with distilled water to remove dirt and soil; then, they were air-dried for 72 hours at 25±2 °C.
Extract preparation
The aqueous extract was prepared by boiling 50g of ballota (stem)with 300 ml of distilled water for 5 minutes. After being cooled to room temperature, the mixture was placed in a shaker at room temperature for 24 h. The mixture was then filtered twice, first through a Whatman No. 0.4 filter paper and then through cotton wool. The aqueous extract was then poured in shallow layers in evaporating dishes and then incubated for 2-4 days at 37°C to obtain a powder extract of the plant. The powder extract was then diluted with distilled water to make different concentrations [12].
Gas chromatography-mass spectrometry (GC-MS) analysis
The fatty acids were detected in plant extracts using a gas chromatography system (GC)(Chrompack-Packard 438A) equipped with an FID Detector at a temperature of 325oC and a separation column type 30-SE with an inner diameter of 0.25 mm and a length of 30 m based on the method described in [13].
Laboratory Animals
The experiment was performed at the animal laboratory of the Biotechnology Research Center at Al-Nahrin University between March 2019 and October 2019. A total of 60 albino male mice weighing between 23-28 g were employed for this study. Mice were adapted for one week before the start of the experiment. The experimental design included twenty normal while the remained forty mice were given a single dose of of160mg/kg ofn5-Streptozotocin to induce neonatal diabetes [14]. The experimental animals were then divided into six different experimental groups, and each group was housed separately in transparent plastic cages equipped with stainless steel cover lids. The animals were maintained at a temperature of 25±2 °C, and they had ad libitum access to food (standard pellets) and water throughout the experimental period (21 days).
Experimental Design
The experiment was designed to evaluate the anti-diabetic effect of Ballota (water extract) in albino male mice. The tested groups were injected orally with a single dose (0.1ml)of different final concentrations (0, 50, 100, 150 mg/Kg) of Ballota extract per day for 21 days. The experimental groups are illustrated in (Table 1).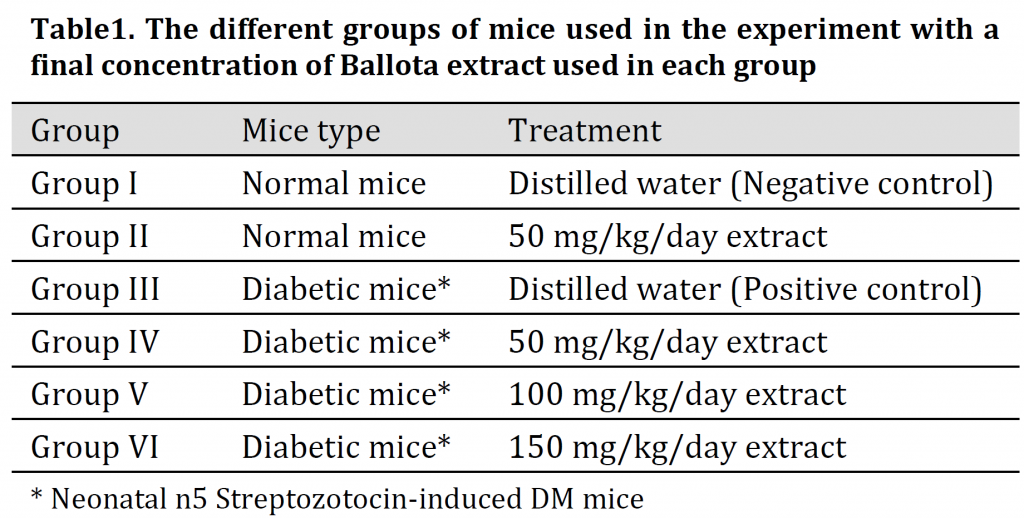 Table 1. The different groups of mice used in the experiment with a final concentration of Ballota extract used in each group
Blood sampling and determination of glucose level
Postprandial glucose level was monitored for treated normal mice (Group II) after 2 and 4 h of treatment on the first day, after one week, and at the end of the experiment. Fasting blood glucose levels of the experimental groups were monitored on the first day and at the end of the experiment. Blood samples were collected from the tail vein according to the method of [15] and blood samples were centrifuged for 10 minutes at 5000 rpm to separate the serum.
Measurement of glucose level
The glucose level in serum was determined immediately using a colorimetric method. First, β-D glucose is oxidized into gluconic acid and hydrogen peroxide in the presence of glucose oxidase (GOD). H2O2 reacts with phenol and 4-amino antipyrine. The reaction forms a pink-colored quino amine dye complex. The glucose level is then estimated by measuring the absorbance of samples and standards against the blank (Distilled water) at 500 nm using a UV-VIS spectrophotometer (Unico –USA).
Statistical analysis
Data were analyzed with SAS Version 9.1 software using a one-way analysis of variance (ANOVA) with Tukey's HSD post hoc test at P
Results and Discussion:
The GC-MS analysis revealed that the aqueous hot extract of Ballota contained a different important type of saturated and unsaturated fatty acids. The highest concentration belonged to α-Linolenic acid (Omega-3) followed by Palmitic acid with 57.05%and 27.28% respectively (Table 2). These results are in accordance with the results of [17].

Table 2. fatty acids analysis of aquatic Ballota extract using GC/MS
The effects of Ballota extract (50 mg/Kg/day) on plasma glucose levels of normal mice after 2 and 4 hours of its oral application were investigated. Results illustrated that postprandial glucose level in normal mice (Group II) was reduced significantly by the end of the experiment after 21 days of application (Fig 1).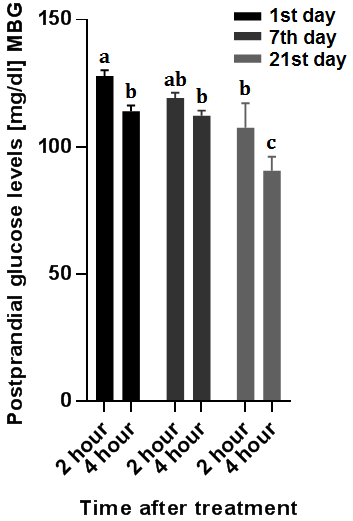 Figure 1. The effect of Ballota extract on postprandial glucose level (Mean±SD) in normal mice (Group II)
Numerous reports had suggested different species of the genus Ballota as a safe and inexpensive food supplement for various reasons [18][19]. The results of the current study illustrated the anti-hyperglycemic activity of B. saxatilis aquatic extract in normal mice which renders it a promising dietary supplement for those with "pre-diabetic" state as lifestyle activities including diet play a major role in DM development and control
Fasting serum glucose (FSG) levels were compared between the six mice models on the first day, and no differences were noticed between the different models except for those between normal (Groups I and II) and n5-STZ diabetic mice (Groups III, IV, V, and VI). After the oral application of Ballota extract for 21 days, the corresponding FSG level was significantly reduced in normal mice group with 50 mg/kg extract. A significant decrease in FSG levels was observed under all B. Saxatilis concentrations in n5-STZ diabetic mice (Group IV, Group V, and Group VI) by the end of the experiment when compared to control (Group III) (Fig. 2). The best treatment was 150 mg/Kg/day where the subjects FSG levels reached normal levels, with no significant difference between Group VI and Negative control (Group I) by the end of the experiment (Fig. 2).
Figure 2. The effect of Ballota stems extract on fasting blood glucose level in normal and n5-STZ diabetic mice; * The groups from left to right are the same groups mentioned in (Table 1) from Group I – VI.
The biological activity of B. saxatilis extract might be attributed to its unsaturated fatty acids content especially omega-3whichis known to improve several metabolic abnormalities linked to free radicals induced lipid peroxidation leading to diabetes mellitus as well as insulin-sensitizing effect leading to high production and secretion of adipocytokines as adiponectin and leptin. Additionally, omega-3 enhances fatty acid oxidation and reduces de novo lipogenesis which leads to a reduction in hepatic fat accumulation and preserves hepatic insulin sensitivity [20][21][22][23]. Another proposed theory to the anti-diabetic effect of omega-3 is attributed to the secretion of glucagon-like peptide-1 which is mediated by GPR120 [24]. Many studies reported that long-chain monounsaturated fatty acid, as well as α-linolenic acid-containing diets, promote and stimulate GLP-1 secretion in murine rat and human L cells, and increase insulin circulating [25-29]. Additionally,[30]suggested foods of high n-3 PUFA content as a treatment strategy.
The aqueous extract of Ballota saxatilis appears to have promising antihyperglycemic effects in diabetes which might exceed the previous anti-diabetic activities in other Ballota genus members such as B. nigra [31][32] and B. undulata [33]. Therefore, the current study suggests B. saxatilis as a novel oral antihyperglycemic agent. Furthermore, extended studies are needed to investigate the cultivation of the plant in the Iraqi environment and to introduce its extracts to dietary programs.