Introduction
Trypanosomiasis is a globally occurring parasitic disease in animals and humans [1][2]. Trypanosomiasis causes significant economic losses in livestock due to stunted growth, decreased fertility, decreased milk and meat production, weight loss, and increased production costs due to additional veterinary care costs [1][3]. Furthermore, parasitaemia, periodic fever, anaemia, and death are common in animal trypanosomiasis [4][5]. Trypanosomal chancre, accompanied by lymphadenopathy, usually appears 5 days after tsetse fly's bite, with an initial symptom of human trypanosomiasis (sleeping sickness). After that, generalised infection, fever, hepatosplenomegaly and faint rash set in. If not treated, trypanosomiasis infection progresses to chronic encephalopathy, mental retardation, and increasing trouble in dealing with surroundings, ultimately leading to a terminal somnolent condition [6]. Human African Trypanosomiasis is commonly attributed to Trypanosoma brucei brucei, Trypanosoma brucei gambiense, or Trypanosoma brucei rhodesiense infections [7].
Only a few chemotherapeutic drugs are currently available as an inexpensive and safe treatment for trypanosomiasis. Additionally, genetic alterations, such as mutations, deletions, or deferential amplifications, can affect the uptake, metabolism, target interaction, or efflux of the drug, and drug resistance develops [8].
Plant-based trypanocidal drugs are currently unavailable, even though several plants have been confirmed to have anti-trypanosomal properties. This situation highlights the critical need for new, reliable, affordable, and safe trypanosomiasis drugs developed from plant collections [9][10].
Terminalia catappa (Indian almond) is a plant species that belongs to the family Combretaceae. The plant is aperennial tree that has been extensively introduced into littoral habitats, coastal forests, gardens, and parks to be used as an ornamental, shade tree, and dune stabiliser. T. catappa is found in coastal areas in the tropics, and its leaf extracts have been shown to have antioxidant, hepatoprotective, anti-HIV, and anti-carcinogenic properties[11]. Terminalia catappa also contains various phytoconstituents, including flavonoids, phenols, and carotenoids, which refers to its potential anti-inflammatory, antimicrobial, wound-healing, antidiabetic, and anti-trypanosomal properties [12][13][14]. Despite all of Terminalia catappa's biological and medicinal properties, researches on its trypanocidal properties are scarce. This study aims to determine the trypanocidal activity of Terminalia catappa leaf ethanolic and aqueous extracts against Trypanosoma brucei brucei in vitro.
Materials and methods
Leaves collection and extraction
Fresh leaves of the Terminalia catappa plant were collected from a park in Akure, Nigeria. Terminalia catappa leaves were washed with clean water, drained properly, chopped into smaller pieces, spread lightly on clean polythene, air-dried until crisp, and milled to fine powder. Two leaves powder samples (400g each) were immersed in either 2000 ml 70% ethanol (Cat. No: U.N No. 1097; BDH Limited, Poole, England) or in 2000 ml distilled water. Both preparations were vibrated continuously for six hours before being left undisturbed for another 48 hours. Then, both preparations were filtered separately using Whatman No 1 filter paper. The ethanolic and aqueous extracts were then vacuum condensed at 35-40oC in a rotary evaporator (SCILOGEX SCI100-S 5L Rotary Evaporator, Vertical Coiled Condenser Manual Lift). The dried ethanolic extract of Terminalia catappa leaf (EETCL) and aqueous extract of Terminalia catappa leaf (AETCL) were stored at -20°C before they were used.
Terminalia catappa leaf extract analysis
Qualitative determiation of phytochemicals
Alkaloids, saponins (Forthing test), tannins (Ferric chloride test), flavonoids (Shibita's reaction test), phlobatannins, anthraquinones, and cardiac glycosides of ethanolic and aqueous extracts of Terminalia catappa leaf were qualitatively determined using standard techniques as described by [15].
Quantitative determiation of phytochemicals
Determination of alkaloids
The alkaloid content was measured using the gravimetric process described in [16]. 5 g of each sample was weighed and distributed in 50 ml of acetic acid solution in ethanol (10%) using a weighing balance. The mixture was permitted to settle for about 4 hours after a thorough shake before being filtered. The filtrate was reduced to a quarter of its original volume on a hot plate. Then, alkaloids were precipitated by adding concentrated ammonium hydroxide was added drop by drop. The precipitate was filtered with pre-weighed filter paper, and ammonium hydroxide solution (1%) was used to wash the filtrate. The precipitate was dried for 30 minutes in a 60°C oven, then transferred to desiccators to cool before being reweighed until it reached a constant weight. Alkaloids weight was calculated as a fraction of the sample weight.
Quantification of Total flavonoids
Surana et al. [17] procedure was used to evaluate the flavonoids. 0.50 ml of both extracts were added separately to a test tube. Then 1.50ml, 0.1ml, 0.1ml, and 2.8ml of methanol, aluminium chloride solution, potassium acetate solution, and distilled water, were added to each tube, respectively. The mixtures were shaken together. Sample blanks for both extracts and rutin standard dilutions (10-100 g/ml) were prepared similarly but with distilled water instead of aluminium chloride solution. The solutions were then filtered through Whatman filter paper (No. 1) until the absorbance was calculated. Absorbance ratios were measured at 510 nm against blanks. Then, total flavonoid content was determined as equivalent to 1 mg rutin per gram of the extract.
Total saponins quantification
saponin content in the extracts was measured using vanillin and concentrated sulfuric acid colourimetric method described in [18]. plEach ant extract (0.1 ml each) was mixed with 0.5 ml of ethanol (50%), 0.5 ml of freshly made vanillin solution 8% (w/v), and 4.0 ml of sulfuric acid 77% (w/w). The mixture was cooled down to room temperature and then warmed to 60°C in a water bath for 15 minutes. The absorbance was measured with a UV/Vis spectrophotometer at 545 nm. A tea saponin calibration curve was used to determine the total saponin content in each sample, and expressed as mg tea saponin equivalent per g (TSE/g DW).
Quantification of Total tannins
Total tannins were estimated using the Folin-Ciocalteutechnique developed by [19]. 1 ml of each plant extract was diluted with distilled water (49 ml), metaphosphoric acid (0.1 ml), ethanol 75% (1.7 ml), Folin-Ciocalteu (2.5 ml), and (1.0 mol/ml) Na2CO3 (10 ml) in a 100 ml volumetric flask. The mixture was thoroughly combined and allowed to rest for 15 minutes at room temperature. Then, the absorbance of sample mixtures and normal solutions was measured at 680 nm in a spectrophotometer against a blank. The standard curve (R2 = 0.9972) was used as a reference, and the total tannin content in the plant extract was specified as equal to tanninic acid (TA) mg TA/g DW.
Quantification of 2, 2-diphenyl-1-picryl-hydrazyl-hydrate
The free radical scavenging activity of 2, 2-diphenyl1-picrylhydrazyl hydrate (DPPH) was used to assess antioxidant activity [20]. Tocopherol reagent (Sigma-Aldrich; St. Louis, MO, USA) was used as a positive monitor. Each extract was combined with 100 µl of DPPH solution to achieve a final concentration of 0.2 mM and left for 30 minutes. A microplate reader was used to calculate the mixture's absorbance at 517 nm. The following equation was used to quantify scavenging behaviour.
DPPH radical scavenging activity (%) = (Atest / Acontrol) x 100;
where Atest is the sample absorbance, and Acontrol is the absorbance of -tocopherol solution.
Trypanosoma brucei brucei in-vitro trypanocidal activity
The Research and Ethics Committee of the Department of Microbiology, Federal University of Technology, Akure, Nigeria, granted permission to use animals and animal protocols for this study.
The test organism, Trypanosoma brucei brucei (T. brucei brucei), was obtained from the Nigerian Institute for Trypanosomiasis Research in K-Vom, Plateau State, Nigeria. The trypanosome was kept alive in the Microbiology Laboratory by passing it through albino rats regularly until it was required. The passage took place four days after infection, and ten fields were microscopically examined to determine the average parasitemia level (24±9) per field [21]. The in vitro trypanocidal activity of EETCL and AETCL was assessed in triplicates in 96 well plates. A total of 40 µl of blood containing about 20-25 parasites per field was mixed with 20 µl of EETCL AETCL solutions containing 100, 80, and 60 mg/ml, respectively, to produce adequate test concentrations of 25, 20, and 15 mg/ml. The negative control was glucose phosphate-buffered saline (GPBS), while the positive control was a traditional trypanocidal drug (Diminazine diaceturate (1.05g); Antipyrine (1.31 g); Vitamin B12 (1mg); developed by Aether Centre Biology Co. Ltd. China). The mixtures were incubated at 37°C for an hour. During the incubation period, the parasites' motility was inspected in a 15 minutes interval under a microscope using a ×40 objective lens in 5µl of the test mixtures. The seizure or termination of the parasite in extract-treated blood compared to the parasite-loaded control (blood suspended in glucose phosphate-buffered saline without extract) was taken as an evaluation of trypanocidal activity [22].
Statistical analysis
The phytochemical analysis data were measured as means and expressed in descriptive statistics using Microsoft Excel spreadsheets. All data in the trypanocidal study were subjected to a one-way ANOVA with SPSS version 20. The differences in means were assessed using the same package's Duncan multiple range test (P<0.05).
Results
The qualitative tests showed that flavonoids and cardiac glycosidescontent of the EETCL were high, while saponins and tannins are moderate and alkaloids were low. On the other hand, AETCL contained a moderate concentration of saponins, tannins, flavonoids, cardiac glycosides, and a low alkaloid concentration (Table 1).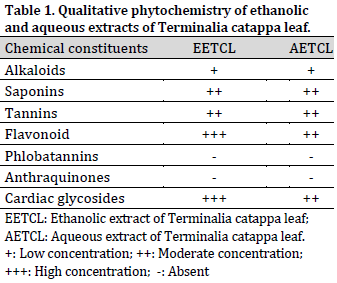 Table 1. Qualitative phytochemistry of ethanolic and aqueous extracts of Terminalia catappa leaf.
Quantitative analysis showed that phytochemicals concentration in EETCL was considerably higher than that of AETCL (Figure 1). Although DPPH scavenging activity was higher in EETCL than AETCL, there was no significant difference in scavenging potentials between the two extracts (Figure 2).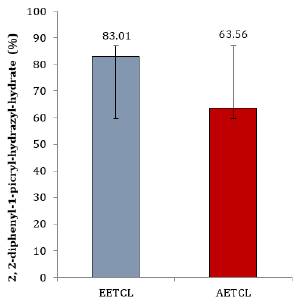 Figure 2. Antioxidant activities of Terminalia catappa leaf extracts. EETCL: Ethanolic extract of Terminalia catappa leaf; AETCL: Aqueous extract of Terminalia catappa leaf.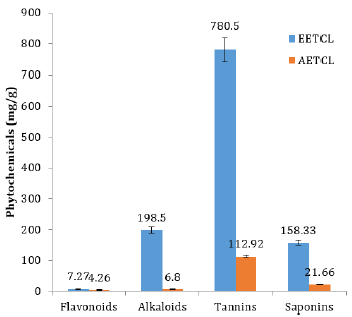 Figure 1. Quantitative phytochemistry of ethanolic and aqueous extracts of Terminalia catappa leaf. EETCL: Ethanolic extract of Terminalia catappa leaf; AETCL: Aqueous extract of Terminalia catappa leaf.
The trypanocidal study showed that both diminazene diaceturate (positive control) and 25 mg/ml EETCL treatment groups resulted in a complete seizure of Trypanosome motility at 30 minutes mark (Table 2). The 20 mg/ml EETCL-treated group induced a complete seizure of Trypanosome motility after 45 minutes. A total seizure of Trypanosome motility was observed at 60 minutes mark in 15 mg/ml EETCL and 25 mg/ml AETCL. There were no total seizures of Trypanosome motility in 15 mg/ml AETCL, and 20 mg/ml AETCL treated classes even after 60 minutes. No mortality levels were observed in negative control throughout the experiment.

Table 2. In vitro trypanocidal activity (% mortality) of ethanolic and aqueous extracts of Terminalia catappa leaf
Discussion
Some of the bioactive compounds found EETCL and AETCL unravelled some health-enhancing critical bioactive compounds such as alkaloids, saponins, tannins, flavonoids and cardiac glycosides. These bioactive compounds were reported to impose therapeutic and antioxidant properties [23] and trypanocidal activity [24]. The trypanocidal properties of the bioactive compounds such as flavonoids, saponins, tannins, and cardiac glycoside were established [25, 26]. The DPPH assay is a general form of an assay that is commonly used for various antioxidant studies in plants and plant extracts [27]. The antioxidant activity of EETCL and AETCL in this study indicates that these extracts may have both therapeutic and antioxidant properties.
The adverse effects that plant extracts might have on trypanosome mobility and longevity are accurate indicators of their trypanocidal effect in vitro [21]. The earliest complete seizure of the trypanosomal activities being observed in 25 mg/ml EETCL treated group at 30 minutes are similar to previous reports [28], which reported the inhibition of trypanosomes' motility within 31-60 minutes by twenty-three West African plants. The exhibited complete seizure of the trypanosomal activities by 25 mg/ml EETCL in vitro could be due to the activities of alkaloids, flavonoids, and tannins [2]. It was reported that these biochemical or bioactive compounds impede the trypanosome's redox balance by acting on their cellular defence at odds with the oxidative stressor respiratory chain [29]. Natural products also have structures that generate unpaired valence electrons, which can cause peroxidative degradation of trypanothione reductase, which is very sensitive to redox balance changes [30][24].
Conclusion
The ethanolic extract of Terminalia catappa leaf at a 25 mg/ml concentration showed the best in vitro anti-trypanosomal activity. Further research is required to determine the Terminalia catappa leaf's efficacy in treating the animals' trypanosome infection in vivo.